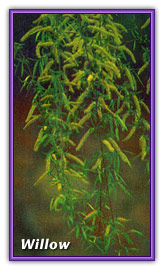 Source
Willow is the inner bark of several species of Salix, trees in the willow family including white willow (S. alba). Four other European species recognized as sources are crack willow (S. fragilis), purple willow (S. purpurea), violet willow (S. daphnoides), and bay willow (S. pentandra). All except bay willow are naturalized in North America.
Traditional Use
For more than 2,000 years, people of the Northern Hemisphere used willow bark as a wash for external ulcers and internally to reduce fevers and relieve aches, pains, rheumatism, arthritis, and headaches. Native Americans used it: black willow root bark was used by the Houma as a blood thinner; the Creek used the root tea to relieve inflammation in rheumatism and to reduce fever. In American folk traditions, the bark was used as a blood thinner (like aspirin) and to treat fever. The tea was also given for dyspepsia. In 1763, a Dr. Stone of London first recommended willow bark to the medical profession for the treatment of fevers.
Current Status
In the 1890s the Bayer Company was looking for a substitute for wintergreen and black birch oil, then used to relieve pain, because they were simply too toxic. Their researchers studied experiments from 1853 in which salicylic acid was first synthesized from carbolic acid. They rediscovered a derivative of the acids developed in the 1853 studies-"acetylsalicylic acid", commonly known today as aspirin. No other drug is as well-known for its analgesic, fever-reducing or antiinflammatory qualities. Willow bark has been considered a "natural aspirin".
Willow bark contains compounds called phenolic glycoside esters. Intestinal micro-organisms transform these compounds to saligenin, which is oxidized in the liver and blood, producing salicylic acid. It has pain-relieving effects like aspirin, but with fewer side effects. Pain is reduced by inhibition of prostaglandin synthesis in sensory nerves. The question then becomes whether you can take enough willow bark to achieve this effect? According to Varro Tyler, probably not.
Preparations
The dried bark is available in whole form or pulverized for teas, capsules, tablets, and other products. In Europe, willow products standardized to salicin are available. Bark should contain at least 1 percent salicin.
Cautions
Willow bark is high in tannins, which can damage the liver. Because willow bark produces salicin, it is suggested to be contraindicated in the same instances as aspirin for stomach ulcers and, in children, for high fevers. However, salicin does not metabolize the same as aspirin, so the contraindications may not apply.
Symptoms
Fever
Aches and pains