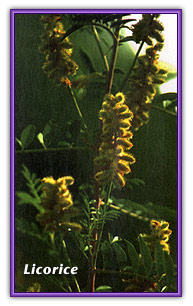 Source
European licorice is the root of a member of the pea family native to Eurasia. Twenty species of Glycyrrhiza are found in Eurasia, North and South America, and Australia. At least six Chinese species are used as Chinese licorice (gan-cao or sweet herb), primarily G. uralensis. Licorice is cultivated commercially in Europe and Asia.
Traditional Use
What we think of as "licorice" flavor is actually anise; licorice itself tastes very sweet and musty. The Roman naturalist Theophrastus (c. 372c. 287 B.C.) wrote that the roots were used for asthma, dry cough, and lung disorders. Traditionally, the dried root has also been used for sore throat and laryngitis as well as inflammation of the urinary and intestinal tracts. In China, licorice is first mentioned in Shen Nong Ben Cao Jing (first century A.D.). It is used in Chinese prescriptions for coughs, sore throat, asthma, gastric and duodenal ulcers, and as a "mediator" of potentially toxic ingredients.
Current Status
Licorice is considered expectorant, diuretic, antiinflammatory, and soothing to irritated mucous membranes; it is used in the treatment of inflamed lungs, as well as for gastric and duodenal ulcers. Its cough-suppressant activity resembles that of codeine. It speeds healing of gastric ulcers in part by increasing secretions from the gastric mucosa.
Glycyrrhizin (glycyrrhetic acid) is believed to be the primary active constituent, though other components of licorice contribute to its biological activity. Glycyrrhizin is fifty times as sweet as sugar and is found in licorice at concentrations of I to 25 percent. Good-quality licorice should contain at least 4 percent glycyrrhizin.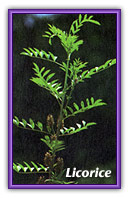 Licorice is one of the better-studied herbs. Numerous pharmacological and clinical reports confirm its usefulness in treating ulcers and support its reputation as a cough suppressant and expectorant. The German government allows licorice preparations to be used for the supportive treatment of gastric and duodenal ulcers and for congestion of the upper respiratory tract.
Preparations
Licorice is available as whole, sliced, and cut-and-sifted root; in powdered form as capsules and tablets; and as tinctures, extracts, and standardized products. Extracts are used in cough syrups and as flavoring for laxatives.
Cautions
Licorice may cause some individuals to experience water retention and hypertension due to sodium retention and potassium loss. Do not exceed recommended dose. Discontinue use after four to six weeks. Individuals with heart disease, liver disease or hypertension should avoid licorice and it should not be used during pregnancy. If diuretics or heart medications containing digitalis have been prescribed, licorice should be avoided.
Symptoms
Stomach or duodenal ulcers
Actions
Cough suppressant
Expectorant