Health and the Search for Super Foods
June 12, 2010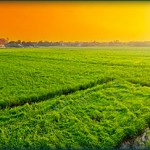 The next wave of nutrition is finding "super foods" that are rich in nutrition and phyto-chemicals, natural ingredients with health promoting capabilities. What a refreshing change to enjoy safe and regenerative food from the world's leading herb supplement company!
Health, Super Foods And Maximum Nutrition
No doubt you've seen the news stories on the nutritional scares in your local food chain:
The Mexican strawberry pesticide scare;
The e. coli bacteria in fast food hamburgers;
"Acceptable levels" of pesticides in the three leading baby food brands;  and
Nutrient poor soil leading to the "empty harvest" of nutrient deficient fruits and vegetables.
Our Food  Cleansing Product- F & V Rinse is a natural remedy to use for ridding your food of fungus, bacteria or even pesticides on your supermarket fare. Use a small capful of Rinse to a sink full of water. This safe solution strips the dirt and bugs off the food. Once you soak your produce it will have a fresher flavor, better color and longer-lasting refrigerator life.
Empty Harvest: Foods lacking in minerals and vitality:
Our health problems are nutrient dense "super foods" loaded with nutrients that make every calorie count. Food is judged more and more by what it has to offer in the way of energy, aid to healthy growth, "brain food", and boosts to the immune system.
For "Brain Boosters," health research lists Folic Acid, B vitamins, and  Omega-3 Fatty Acids.
Why folic acid for the brain? Higher levels of folic acid in children's blood have been correlated to better ability to copy cubes and other geometric shapes. A Tufts University study found a "found a correlation between levels of specific B vitamins in the blood and certain mental and spatial skills". These vitamins can be found in: asparagus, peas, dark leafy greens, spinach, brown rice and sweet potatoes. This still leaves a key question- are the vegetables you buy grown in nutrient-rich soil?
Our Vitamin B Complex Supplement Formula (VS) has proven itself a marvelous yeast-free plant source of the B vitamin complex and folic acid. It provides vitamin B 12 that is hard to get if you do not eat red meat daily. One squirt as you head out the door gets you ready for what the day has in store!
Omega-3 fatty acids are important for brain development. The essential fatty acids are usually found in cold-water "oily" fish, such as tuna and salmon. Unfortunately, these fish have fallen out of favor for the leaner warm water fishes. Fish is a delicious alternative, but a concern is  what the fish's mercury or pesticide levels are.
We offer two easy supplements to boost your Omega -3 intake:
Herbal Vitamin Formula (EP) and the Herbal Multi vitamin Formula (MB) deliver both the omega-3 and omega-6 fatty acids along with bee pollen and ginseng in a food balance so your body can absorb them and put them right to work oiling the gears of your brain.
Our wide selection of nutrient dense, super food supplements all provides the nutritious groundwork that helps your body attain a stellar performance.
Contact us for your super foods program today!
Comments